Free Spotify Music Downlaoder
It's easy to download Spotify music with Premium subscription, but it will cost you $9.99 per month. Besides, you can only download Spotify music on 3 devices, with up to 3,333 songs per device. The songs downloaded are DRM protected and you can only play them on that device with Spotify app.
Here we will introduce you 2 free Spotify downloaders which allow you to download Spotify music to mp3 or wav.
The free Spotify recorders are Free Sound Recorder and Streamosaur.1.0.0.1.
Free Sound Recorder from CoolMedia can record any sound that comes from your computer's sound card, so you can play your favorite Spotify songs and use it to record. Free Sound Recorder runs on Windows XP or higher and can record Spotify music into MP3, OGG, WMA, and WAV audio files.
Streamosaur is a real time direct to disk recorder software for Windows XP and Vista. It also record all sounds from your sound card inputs. Click the Record button and then play your Spotify music. IT support 2 output formats: WAV and MP3.
The above 2 Spotify recorder are both free and easy-to-use, but they can't get ID3 tags of the recorded song and won't recognize individual songs. You need to start and stop the recording of each songs manually. This is accessible when you just want to record several songs. If you want to download a large number of songs, this will be boring.
To donwload as many Spotify songs as you like quickly and easily, you should try this paid Spotify music download. It worth the money.
Tutorial: How to download a good deal of Spotify songs easily?
Ondesoft Spotify Music Converter is an excellent Spotify music downloader and converter which allows you to easily download streaming Spotify songs/albums/playlists and convert Spotify music to MP3. The conversion is fast and will preserve all ID3 tags. Follow the steps below to easily convert Spotify music to MP3, M4A, WAV or FLAC with high quality.
Please make sure you have installed Spotify app on your computer.
1. Run Ondesoft Spotify Music Converter
Download, install and run Ondesoft Spotify Music Converter on your Mac or Windows.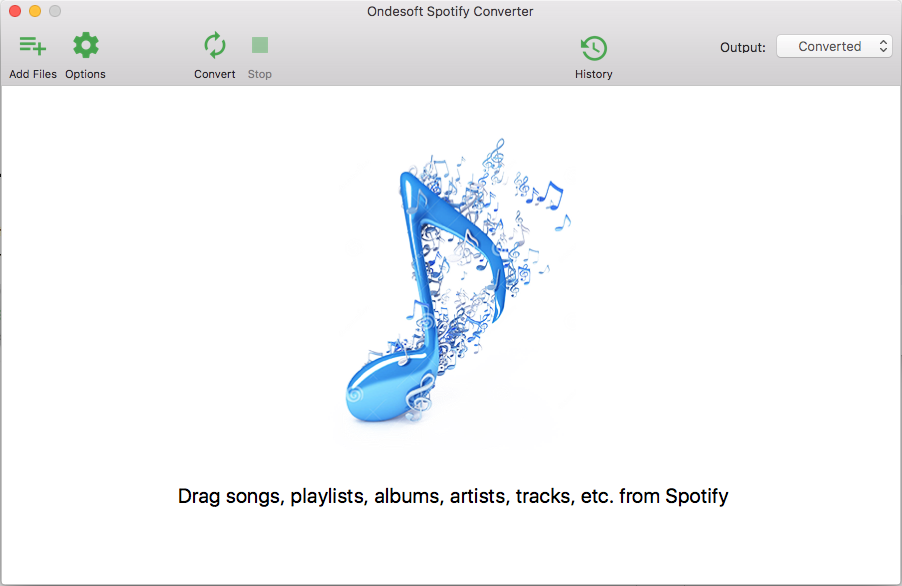 2. Drag&drop Spotify songs, albums or playlists
Method 1: Drag songs, playlists or albums from Spotify app to the interface directly. You can also uncheck the songs you don't want to convert on below window. You can add as many songs, albums or playlists as you want. Then click Add.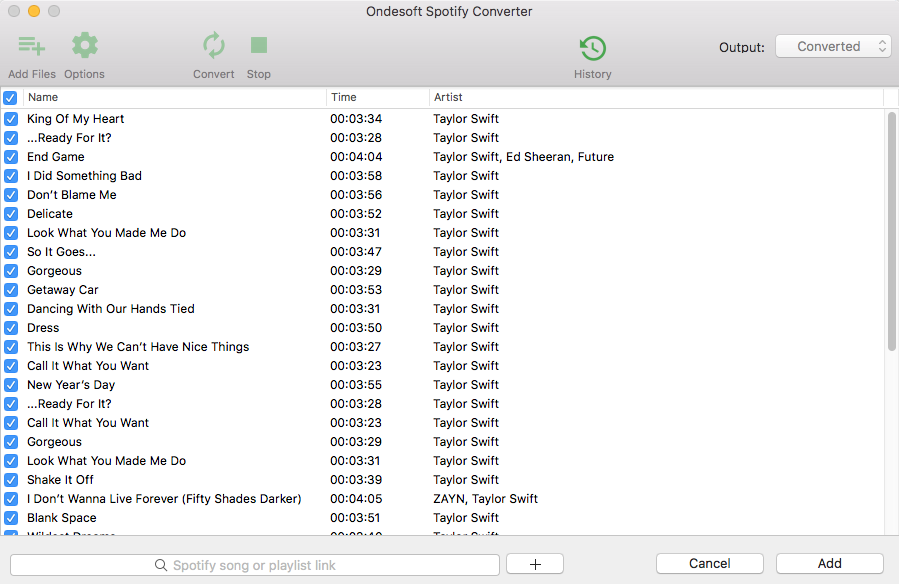 Method 2: Click "Add Files", copy&paste the link of the song, album or playlist from Spotify app to the bottom area. And then click Add.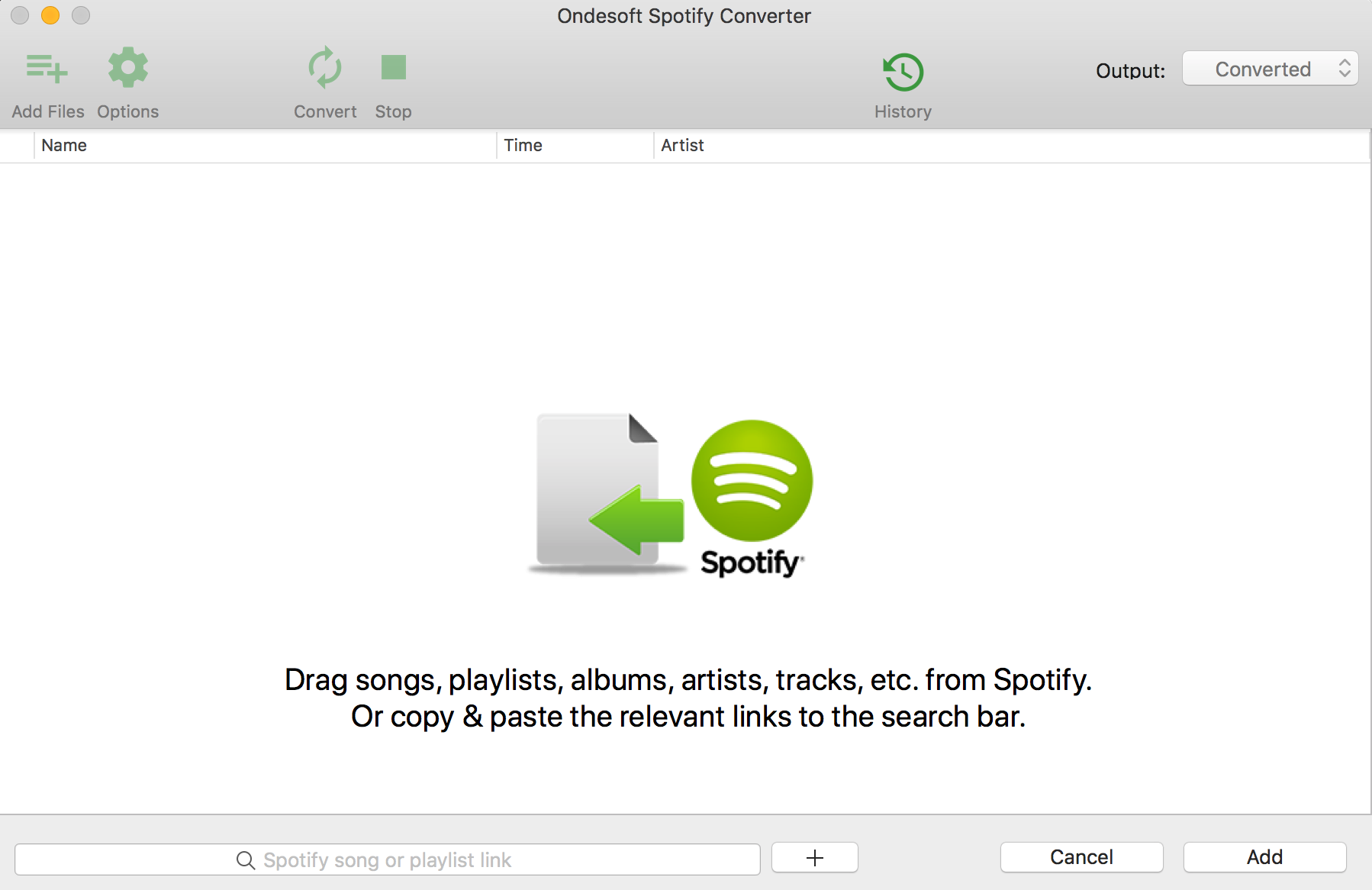 3. Choisissez le format de sortie.
Ondesoft Spotify Music Converter affiche l'illustration, le titre, l'artiste, la durée et le format de la chanson sur l'interface. Outre la conversion de Spotify Music en MP3, il prend également en charge la conversion de Spotify Music en M4A, WAV, FLAC. Cliquez sur le bouton Option pour changer le format de sortie ou le dossier de sortie si nécessaire. Vous pouvez également changer le débit binaire, échantillonner en fonction de vos besoins.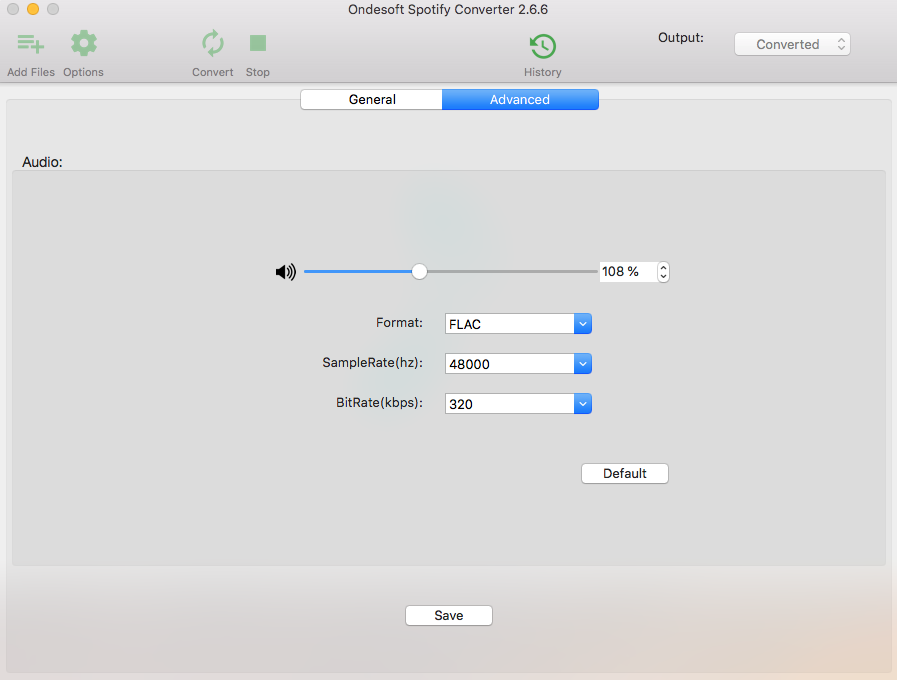 4. Cliquez sur le bouton Convertir Cliquez sur le bouton
Convertir pour lancer la conversion de la musique Spotify en MP3. La qualité 100% originale et les tags ID3 seront conservés dans les chansons téléchargées sans DRM.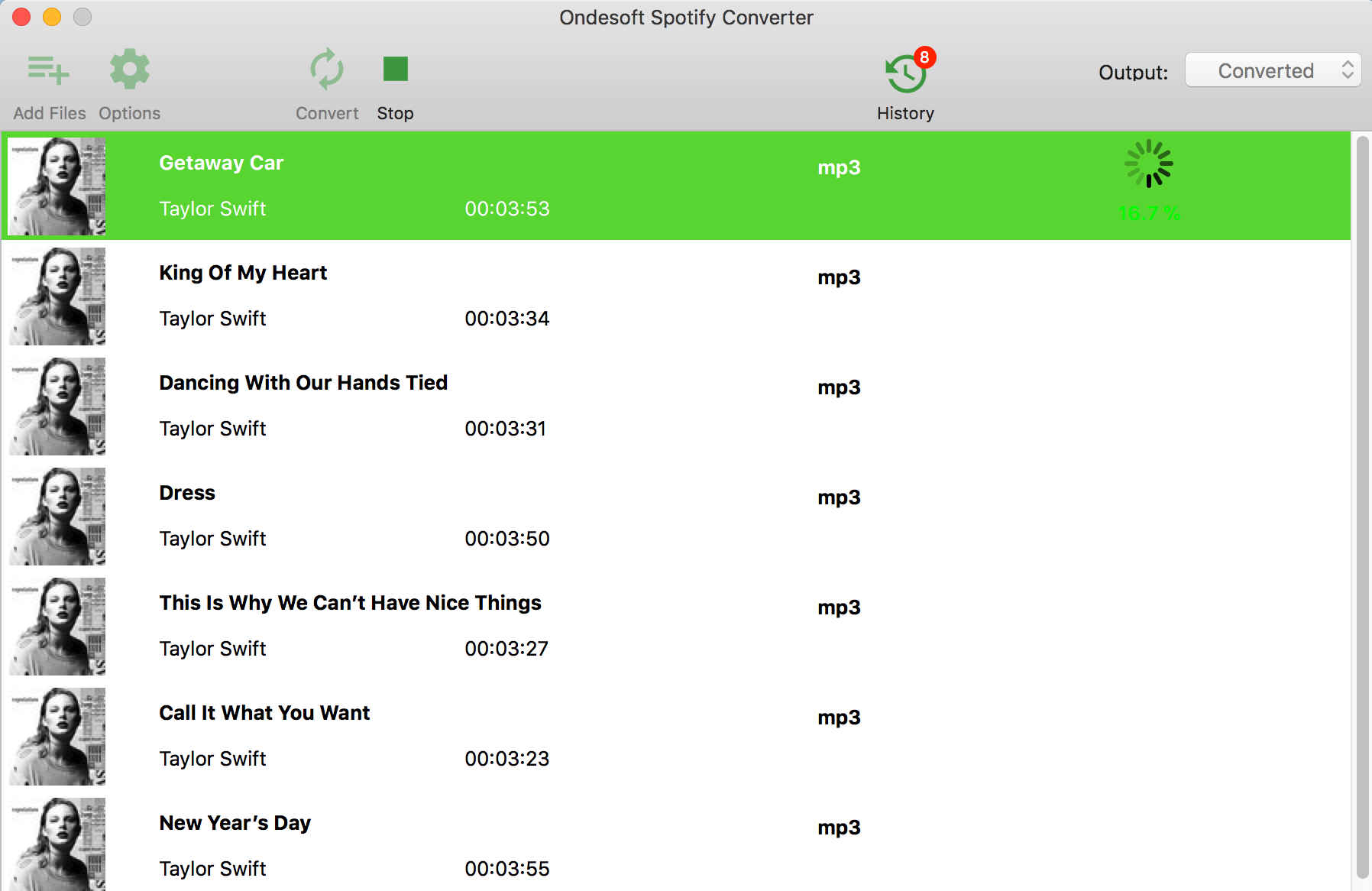 Après la conversion, cliquez sur l'icône de dossier ci-dessous pour localiser rapidement les chansons, albums ou listes de lecture Spotify sans DRM au format mp3. Vous pouvez ensuite les transférer et les jouer n'importe où.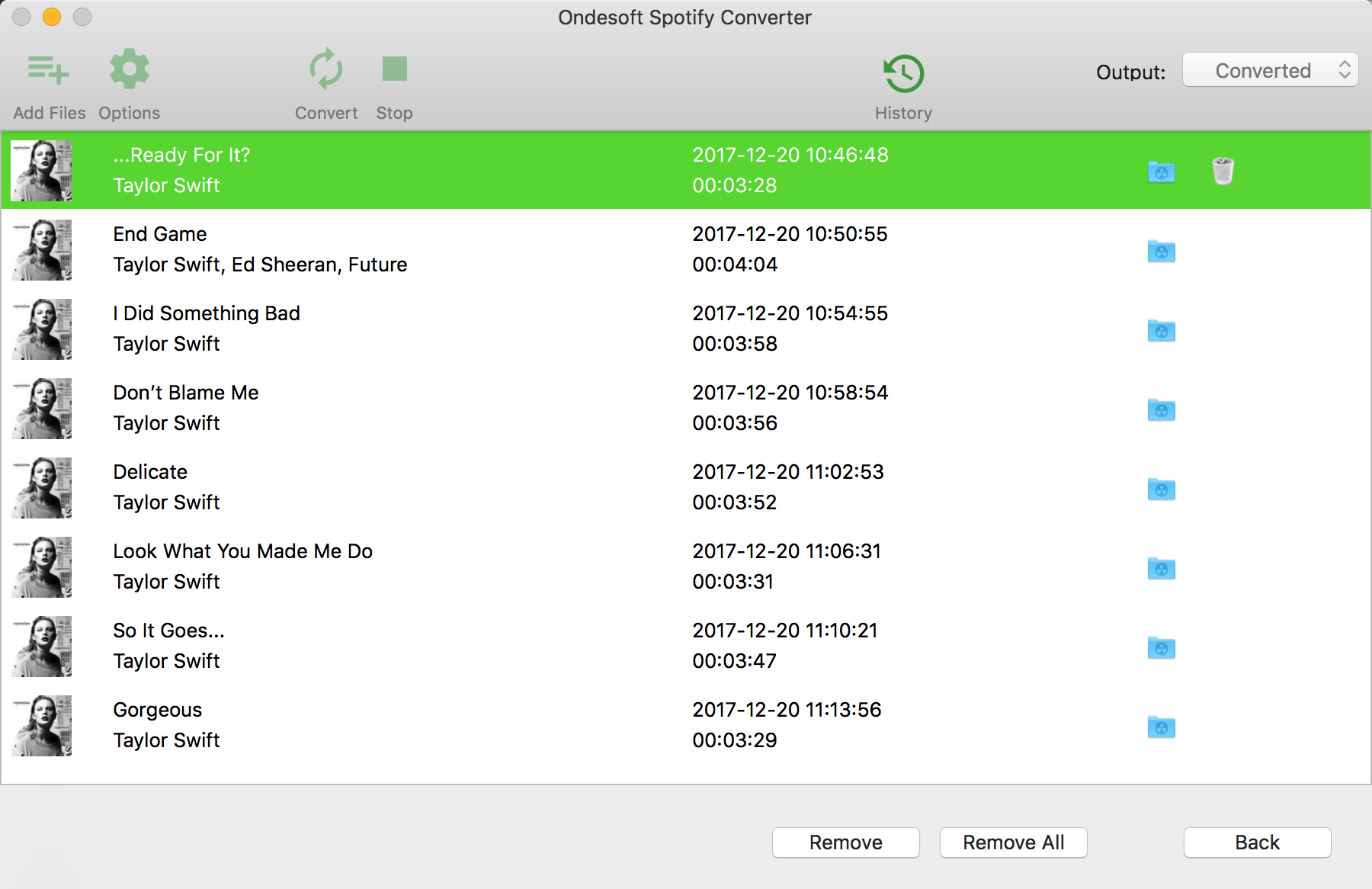 Lecture connexe: Comparaison entre Spotify Free et Premium


Copyright © 2020 Ondesoft- http://www.ondesoft.com - Tous droits réservés.