How to play Apple Music songs on SAMSUNG Galaxy Tab?
---
SAMSUNG Galaxy Tab is a wonderful tablet to watch movies, play games and enjoy music while working. However, it can't play Apple Music songs since Apple uses DRM to protect Apple Music songs being played on non-Apple devices. To break this limitation and enjoy Apple Music songs anywhere you want, you need to remove the DRM.
Ondesoft iTunes Converter is such Apple Music DRM removal tool that allows you to easily remove DRM from Apple Music songs and convert Apple Music M4P songs to MP3 at 16X speed on your Mac or Windows. What's more, you don't need to download the Apple Music songs to convert them since Ondesoft iTunes Converter automatically syncs with iTunes Library and Playlists.
This tutorial will show you how to remove DRM from Apple Music M4P songs to play them on Android devices such as SAMSUNG Galaxy Tab . We will take Ondesoft iTunes Converter Mac version as example.
Related: How to get free Apple Music?
Steps to play Apple Music songs on SAMSUNG Galaxy Tab
---
1. Select Apple Music songs you want to play on SAMSUNG Galaxy Tab
Download , install and run Ondesoft iTunes Converter on your Mac. All your iTune files including playlists are loaded automatically, so make sure Apple Music songs, albums, playlists you want to play on SAMSUNG Galaxy Tab have beed added to iTunes Library. You don't need to download them.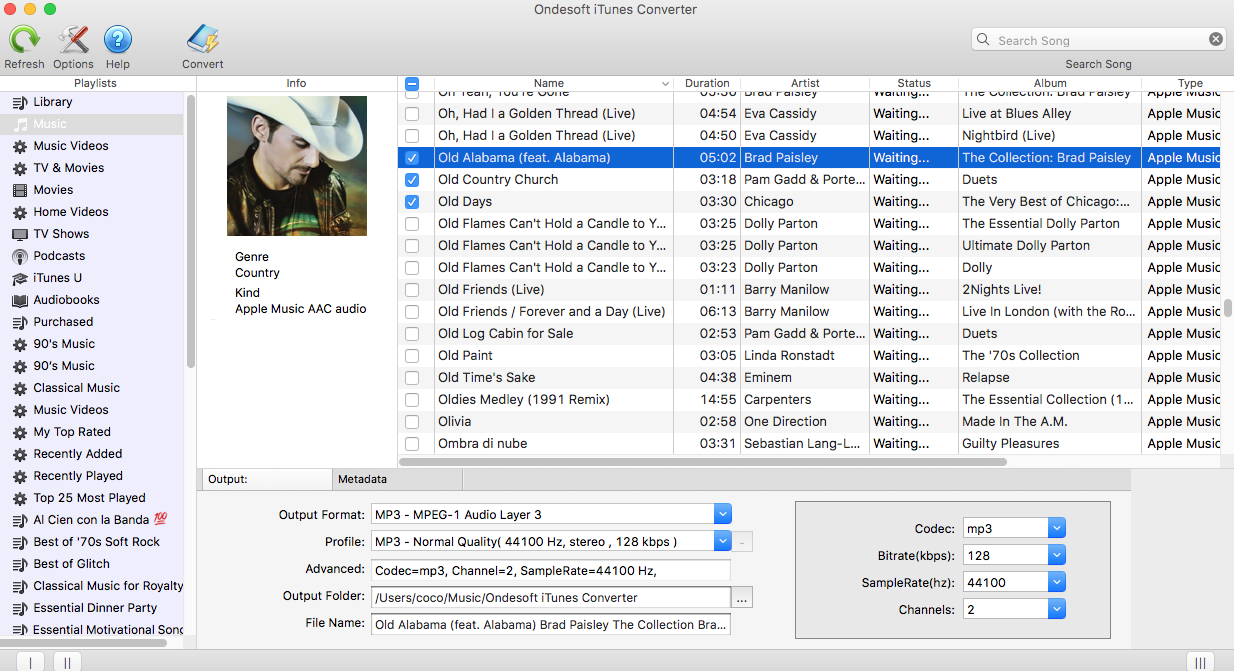 Vérifiez la chanson de

or playlists. You can also search for any song on the top right corner.
2. Select output format and folder
Ondesoft Apple Music Converter prend en charge la conversion des chansons Apple Music M4P en MP3, M4A, AC3, AAC, AIFF, AU, FLAC, M4R et MKA. Choisissez le format de sortie que vous aimez.
Pour chaque format de sortie, le convertisseur Apple Music fournit différents paramètres de profil : élevé, normal et faible avec différentes combinaisons de débit binaire, de taux d'échantillonnage et de canaux. Vous pouvez également personnaliser la valeur comme vous le souhaitez.
Le nom du fichier de sortie peut contenir Title, Artist, Album, TrackID et DiskID, tels que Artist - Album - Track - Title.mp3. Cliquez sur Options dans la barre de menus pour ouvrir Préférences et personnaliser le format de nom de fichier de sortie si vous le souhaitez.
3. Cliquez sur Démarrer Convertir pour supprimer les DRM de certains morceaux Apple Music.
Lors de la conversion, iTunes lit les pistes Apple Music en arrière-plan (mutées), vous feriez donc mieux de ne pas utiliser iTunes avant la fin de la conversion.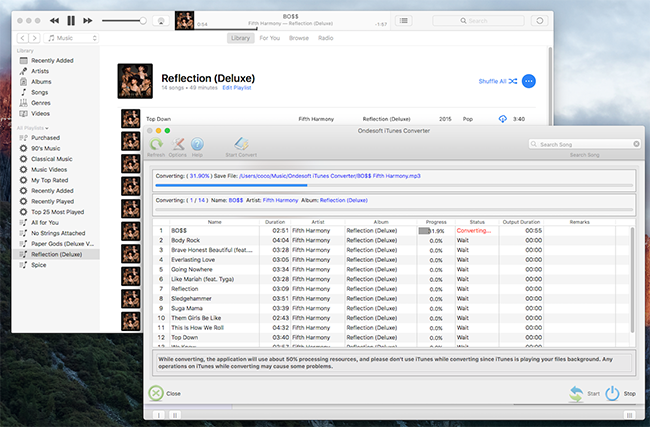 After conversion, you can sync the DRM-free Apple Music songs to your SAMSUNG Galaxy Tab and enjoy them anytime, anywhere you want.
La version d'essai gratuite vous permet de convertir 3 minutes de chaque chanson, pour obtenir la version complète, veuillez acheter une licence.
Features of Ondesoft Apple Music Converter:
---
Synchronisation automatique avec la bibliothèque iTunes
Just add Apple Music tracks, playlists or albums to iTunes Library. Apple Music Converter will automatically load and show them on the interface.

Personnaliser les paramètres du profil
Apple Music vous permet de personnaliser le débit binaire, la fréquence d'échantillonnage et les canaux de la chanson de sortie.

Fast Conversion Speed
There is no need to download the tracks, playlists or albums, but if you want the fastest conversion speed, please download them first.

Fonction de recherche
The powerful search function enables you to quickly find Apple Music tracks you need according to name, artist and album.

Personnaliser le format du nom de fichier
Le nom du fichier de sortie peut contenir le titre, l'artiste, l'album, le TrackID et le DiskID et vous êtes libre de le personnaliser comme vous le souhaitez.
Enregistrer les étiquettes d'identification
Les étiquettes d'identification telles que le nom de la chanson, le nom de l'artiste, l'album, l'artiste de l'album, le genre et l'œuvre d'art seront enregistrées dans les fichiers MP3 et M4A de sortie.
Conversion par lots
La conversion par lots vous permet de convertir autant de pistes Apple Music que vous le souhaitez à la fois.