Is there any software to remove DRM from my own audible audiobooks? I have purchased many Audible audiobooks on my Windows and my Windows is activated for Audible. Is there any way to convert them to M4A or MP3?
The answer is yes. Ondesoft iTunes Converter for Mac / Windows is such a powerful DRM removal tool to convert any audiobooks that could be played on iTunes to more popular Mp3, M4A, etc. It works at 16X speed and preserve all original ID tags and chapters. By removing audiobook DRM protection with Ondesoft Audiobook Converter , you can enjoy all your audiobooks on any popular MP3 players, such as iPod, PSP, Zune, Creative Zen, etc.
It also provides customized conversion for you to set the output parameter of the audiobooks, like codec, bitrate, sample rate, and number of channels according to your needs.
This tutorial will show you how to remove audiobook DRM with Ondesoft iTunes Converter . We will take the Windows version as example.
1. Download, install and run Ondesoft iTunes Converter for Windows and iTunes is launched automatically. Please note Ondesoft iTunes Converter auto-loads your iTunes library, so please make sure the audiobooks you want to remove DRM from have been added to your iTunes library.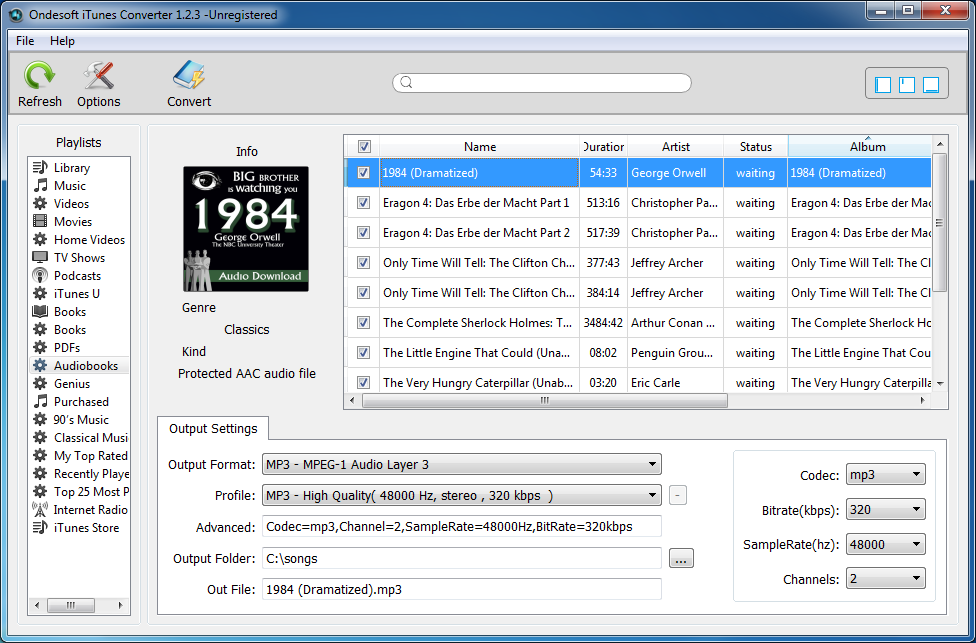 2. Click Audiobooks on the left Playlists column and you will see all your audiobooks listed on the right side of the interface. Tick the checkbox before the audiobook you want to remove DRM from. You can search for your audiobook on the top of the interface.
3. Sélectionnez le format de sortie. Ondesoft iTunes Converter pour Windows prend en charge 8 formats de sortie: MP3, M4A, AC3, AIFF, AU, FLAC, M4R, MKA. Choisissez celui que vous aimez. Si vous souhaitez conserver les chapitres originaux des livres audio, choisissez le format M4A.
Profil: Voici les options de qualité préconçues que vous pouvez choisir: Elevé, Bon, Normal et Faible. Chacune présente une combinaison différente de Bitrate et SampleRate pour chaque format. Une qualité supérieure signifie également une plus grande taille de fichier. Choisissez celui qui convient.

Vous pouvez également personnaliser Bitrate, SampleRate et la valeur des canaux sur le côté droit et les enregistrer pour une utilisation ultérieure.

Avancé: affiche les informations détaillées sur les paramètres du profil sélectionné.
Dossier de sortie: destination de votre livre audio de sortie.
Out File: Nom du fichier de sortie. Cependant, vous ne pouvez pas changer le nom ici. Cliquez sur l'icône Options dans la barre d'outils pour définir le format du nom du fichier de sortie:
Le nom du fichier peut inclure Titre, Artiste, Album, TrackID et DiskID.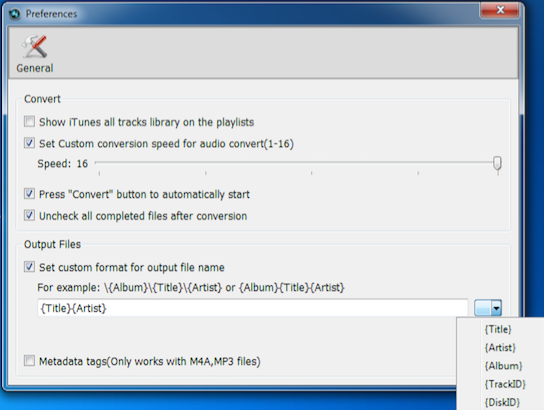 Par exemple, si vous souhaitez que le nom du fichier de sortie contienne Titre et Artiste, cliquez dessus dans la liste déroulante, puis le nom du livre audio passe automatiquement à

4. Après tous ces paramètres, cliquez sur l'icône Convertir dans la barre d'outils.
Bientôt, vous obtiendrez des livres audio sans DRM.